Y2SH
Hello and Welcome to Year 2
We hope that you have had a great half term and are ready for what's coming next…
What is in store for this half term?
This half term our topic is 'Muck, Mess and Mixtures'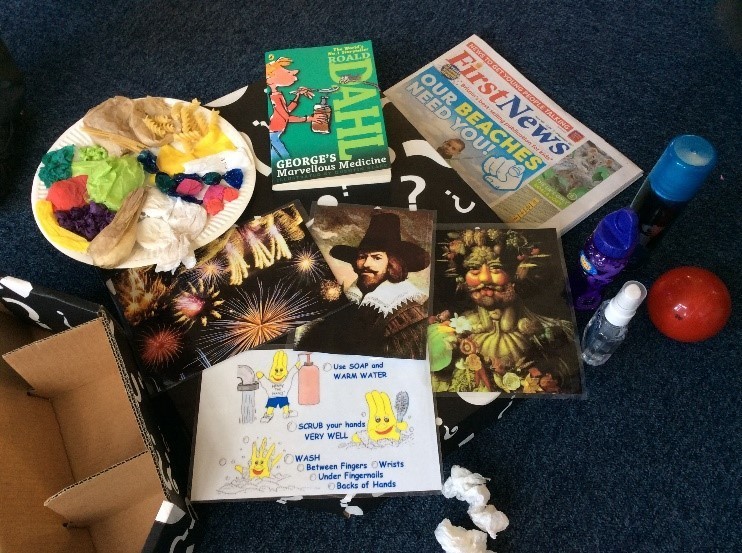 During the last week of half term we opened our talking tub to see what we would be learning next.
The children asked some fantastic questions which has decided what we will learn. Some of these questions were:
Who is Guy Fawkes?

Why do we set of fireworks on bonfire night?

How should you wash your hands?

How do germs spread?

Would we be healthy if we only ate pasta?

How do you change a solid to a liquid?

What makes the best bubbles?
Reading
As a class this half term we will be reading the fictional novel 'Georges Marvellous Medicine' by Roald Dahl. We will also be looking at a variety of poetry, reciting several poems and commenting on them. These will run alongside our topic which is Muck, Mess and Mixtures.
Every child will also take part in a Guided Reading session every week with Miss Hennigan and Mrs Chapman, where they will read a different text to their individual reading book. Children will also take part in a range of reading activities including enjoying books in our own reading area.
The children will also be exploring our library and selecting their own book to read for pleasure. The children will have a designated library day for them to return and change their books, our library day is Tuesday.
It would be beneficial to developing your child's love of reading if you could find just five minutes several times a week, more if you can, to listen to your child read then ask them questions about the book and recording a comment in their reading record diary. When books are ready to be changed please put them in the 'finished books' box. If books are not ready to be changed, they should be placed in the child's drawer so they are easily accessible throughout the day.
English
In English this half term we will be learning about different types of poetry, instructions and newspaper articles.
Mathematics
In Mathematics we are going to continue with partitioning numbers, now extending to partitioning into different combinations and we will use the < > = signs. We will be learning how to estimate then add and subtract numbers. We will also be looking at different measures and how they are important in everyday life. We will continue to learn how to count forwards and backwards in 2's, 5's and 10's.
Mental Mathematics
Every day each child will take part in our Learn Its challenge. These will be sent home with homework so the children can practise at home. It is important that the children become fluent in recalling these facts.
Times Tables
Knowing the times tables to at least 12 x 12 from memory helps us with our written and mental calculations. Therefore throughout the year we will be memorising the times tables too, but it would be fantastic if you could also support your children to learn these at home. We will continue learning the 2's, 5's and 10 times tables.
Science
In Science we will be learning about squashing, squeezing, bending and twisting different materials. We will be investigating the differences between solids, liquids and gases and recording our findings. We will also be looking at the importance of healthy eating and hygiene.
Computing
This half term we will be looking at Coding. Here we use codes to create our own games and activities.
Homework and Spellings
Homework is given out every Thursday and is to be returned by the following Wednesday. House Points are awarded to any children who return their homework on time.
The homework set will usually be aimed at consolidating what we have been learning that week in English and Mathematics, so it is very important that it is completed.
Spellings that the children need to learn are also included with homework on a Thursday. It is important that the children practise these so they can use them in their writing. The children will also have a spelling test on these every Wednesday morning.
PE kit
Our PE days are Monday and Wednesday. We strongly advise that all children bring both their indoor and outdoor PE kit, especially now the weather is getting colder, on a Monday morning and take it home on a Friday for washing.
Water bottles
We recommend that all children have a water bottle in school every day, so that they can keep hydrated throughout the day. We have a designated area in the classroom where we keep our water bottles and can fill them up at the water fountain in our shared area. You can purchase a school water bottle from the office or use an alternative bottle. It would be really useful if you can make sure that your child's full name is on the bottle, in case we have more than one of the same bottle.
Thank you for taking the time to visit our class web page. We hope you have found the information above useful and continue to visit our page as it is updated throughout the coming year. Also please visit our Federation blog, https://brookemarshlandfederation.wordpress.com, which will be regularly updated with all the exciting things we will get up to throughout the year.
Miss Hennigan and Mrs Chapman