Y4LJ
Hello and Welcome to Year 4
with Miss Jackson and Mrs Taylor
We hope you have all enjoyed the Christmas holiday with your family and are looking forward to 2019.
Last term was busy settling into Year 4, learning about the Mayans aswell as, rehearshing and performing our Christmas production of Bah Humbug!
Spring Term and General Information
School uniform
We always look forward to seeing the children, as well as how smart they look in September. However we would like to take this opportunity to remind everyone of our School uniform which is as follows:
Uniform:
Black or grey skirt or trousers.

White or burgundy polo shirt or white shirt.

Burgundy jumper (without hood), cardigan or pullover.

White or grey socks.

Black shoes.

Black, burgundy, grey, white or red hair bobbles, small clips or small bows.

Optional red and white summer dress for girls and grey shorts for boys.
Please see the Physical Education section further below for the indoor and outdoor uniform.
Reading
During shared reading, we will be reading the first book in The Roman Mysteries series by Caroline Lawrence, which is called 'The Thieves' of Ostia'.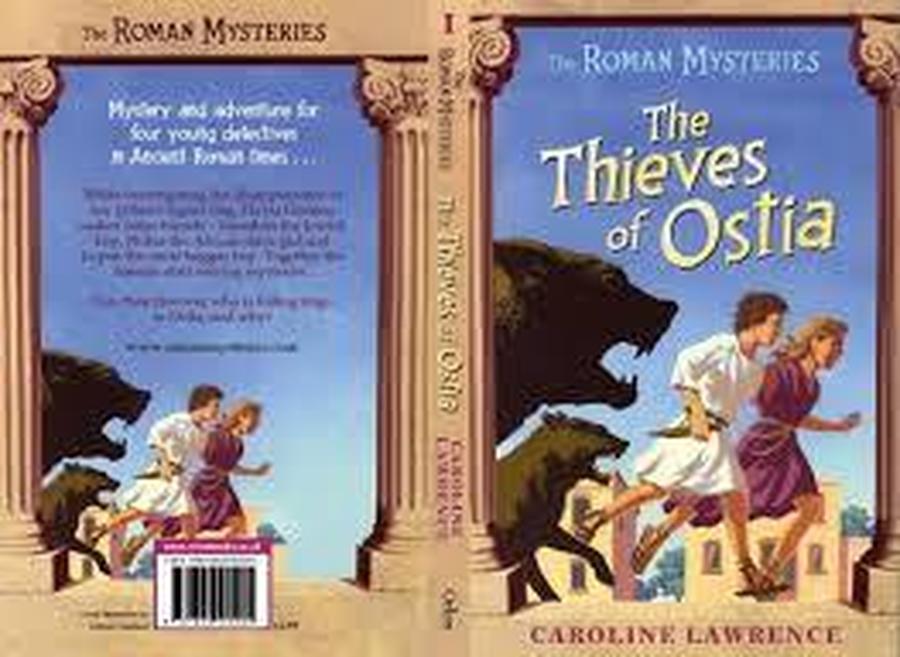 The Children will also be provided with a Library book of their choosing, during our class library session. Every child is expected to have their book in school along with their reading record every day; children can recieve Dojo points for this.
During assemblies certificates will be awarded to the children for reading ten or more books. However, these must be recorded in both the children's reading diary and the class book log.
It would be beneficial to your child's progress if you could find just ten minutes a couple of times a week, more if you can, to listen to your child read and record this in their reading record.
Below are some questions that may help you to support your child's reading development and enjoyment of the fictional texts they read.
What has happened so far? Is it what you expected to happen? What might happen next? How do you think the story might end? What was their favourite part? Why? Who are the main characters in the story? What character would you like to be in the story?
It is every child's responsibility to ensure that the books are kept in a good condition, not ripped, bent or lost and brought to school every day in case for any reason our library slot changes to a different day. It is also the children's responsibility to decide if they need to change there book during our library session.
English
During English lessons, our learning will link to 'The Thieves of Ostia' and or our Hail! Caesar theme. We are intending to explore a range of writing genres such poetry, diary entries and playscripts, while developing our writing skills.
Mathematics
Through the Mathematics Mastery approach to Mathematics, we will be learning about interpreting and presenting data in different graphs, Multiplication, Fractions, telling the Time and decimals.
Times Tables
By the end of Year 4, it is expected by the Government, that all children know and can recall the multiplication and division facts for the multiplication tables up to 12 X 12 in any order. This is to give the children a good foundation for the arithmetic questions that they will be presented with, when the enter Upper Key Stage Two.
We will be learning the times tables through a variety of ways in school. However, it would be fantastic if the children can also be supported in memorising the times table facts at home also.
Science
During the Spring Term the children will cover two aspects of Science.
The first being Animals including Humans.
During this unit the children will be learning:
to describe the simple functions of the basic parts of the digestive system in humans

to identify the different types of teeth in humans and their simple functions

to construct and interpret a variety of food chains, identifying producers, predators and prey
The second scientific theme for Spring will be Living things and their habitats.
During this unit the children will be learning:
to recognise that living things can be grouped in a variety of ways

to explore and use classification keys to help group, identify and name a variety of living things in their local and wider environment

to recognise that environments can change and that this can sometimes pose dangers to living things
Theme
Have you guessed that our theme is 'Hail! Caesar' yet?
Hail! Caesar is about the Roman Empire.
During 'Hail! Caesar' we are intending to:
read Roman Numerals to reveal a mosaic

place events within the Roman period on a timeline

explore Roman artefacts, provided by Doncaster Museum

explore the power of the Roman army and their invasion

use sources of evidence to explore Julius Caesar's attempted invasion in 55-54 BC

learn about Boudica and the British resistance

learn about Roman ideas and beliefs such as Roman Gods
We have also organised for a specialist Historian from Northern Forge to visit school, during March, to further explore daily life in the Roman era and Roman battles. Before this visit we will also be making our own Roman shields to use on this day, when learning about Roman battle drills.
Religious Education
Every child has a statutory entitlement to Religious Education and our class are very fortunate to have our School Religious Education Leader as their Class Teacher.
In Year 4, at Thorne Brooke Primary, Christianity and Hinduism are taught.
French
French is taught within Year 4, at Thorne Brooke Primary.
Luckily for our class, the other Year 4 Class Teacher Miss Merry is our school French Leader. Therefore the children will have the wonderful opportunity of being taught French each week by Miss Merry, who is a fantastic linguist.
Physical Education
As our P.E days can change, for numerous reasons we strongly advise that all children bring both their indoor and outdoor PE kit on a Monday morning and take it home on a Friday for washing.
Our whole school uniform for P.E is unchanged since the last academic year and is as follows:
INdoor PE Uniform:
Black elasticated waist shorts.

Plain white t-shirt.

Black pumps.
Outdoor PE Uniform:
Suitable outdoor jumper, preferably a dark colour and without a hood.

Trainers.

Tracksuits, preferably a dark colour, may be worn in cold weather.
If your child should have their ears pierced, they need to be able to remove and put back in their own earing's, which should be studs, for all P.E lessons. This is for both safety and hygiene reasons.
Homework
Reading and Spellings homework tasks are set weekly and are compulsory. For any children non-compliant with the compulsory homework consequences, such as completing homework in school will be considered and potentially actioned.
Homework should be completed to the same high standard that we expect in school (neat handwriting, answers written fully, errors crossed out neatly etc). Homework is set on a Thursday and expected to be returned to school on a Tuesday morning. Each week, the homework will include a list of spellings to learn for a weekly spelling test. It is also expected that each child will read their reading book to an adult for at least 10 minutes per week as a part of their compulsory homework.
At the beginning of each new theme, the children will be provided with a 'homework menu' in their homework books. This is a sheet that provides the children with a selection of home learning tasks. Tasks from this 'menu' are optional, but are advised as they are designed to enhance the children's learning about the theme.. The children can decide which tasks they wish to complete and how many. Some children may decide to complete one task from the menu per week and others may complete one larger task during the whole theme.
If for any reason your child cannot complete homework at home, they can always attend homework club with Miss Merry on a Monday lunch time.
If you have any problems with homework, please arrange to see Miss Jackson as soon as possible to work together to resolve the matter.
Water bottles
We highly recommend that all children have a water bottle in school every day, so that they can keep hydrated throughout the day. We have a designated area in the classroom where we keep our water bottles and can fill them up at the water fountain in our shared area, at appropriate times. You can purchase a school water bottle from the office or use an alternative bottle. It would be really useful if you can make sure that your child's full name is on the bottle, in case we have more than one of the same bottle.
Fruit for break time
We would also like to remind you that the children are more than welcome to bring their own fruit for break time. However we must stress that they can only bring fruit, as we are a healthy school.
Key Stage Two children are also welcome to take advantage of Mr England's tuck shop where at 10:30am the children will be able to purchase fruit, for a small price.
Thank you for taking the time to visit our class web page. We hope you have found the information above useful and continue to visit our page as it is updated through out the year.
We would also like to make you aware that we have a Year 4 section on our Federation blog and Facebook page, which we will also update with magical moments from our learning journey throughout the year.
If you have any further questions or concerns about your child's journey in Year 4 please do not hesitate to come and see Miss Jackson as soon as possible.
Miss. L. Jackson and Mrs R. Taylor
Class Teacher Core Learning HLTA