Y1AF
Welcome to Year 1
We hope you have had a wonderful time and enjoyed Christmas and New Year. We have got another exciting few weeks ahead of us!
New Topic
Our new topic this half term is Pit Boots and a Snap Tin. We will be having a History focus this term which will involve exploring the coal mines.
English
We will start the term by looking at the book 'Polonius the Pit Pony'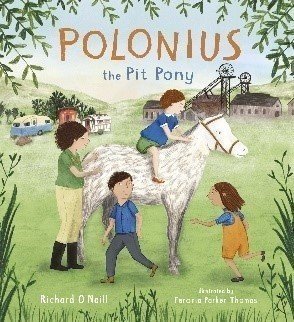 We will:
Make predictions
Learn new vocabulary and discuss word meanings
Ask questions
Make inferences
Punctuate sentences correctly
Sequence a story
Write a diary entry
Maths
In Maths we will be:
Counting on to add and counting back to subtract small amounts
Using number bonds/known facts to add and to subtract
Using the 'Make ten' strategy to add and to subtract
Know and order the months of the year
To sequence daily activities in chronological order
Explore and use the language of minutes and seconds
Tell the time to o'clock and half past on an analogue clock
Read and write the time to o'clock and half past
Solve problems involving time
Describe whole turns and half turns with reference to the clock
Using part-whole understanding of related facts to derive teens facts
Understanding the = symbol as an indication of equivalence
Choosing addition strategies based on the numbers in the calculation
Science
In Science we will:
Compare and group materials based on their properties.
To identify which material an object is made from
To make simple observations using equipment
Theme
Within our Theme lessons, we will be focusing on:
Coal mining
Answering questions the children thought of about mines
Florence Nightingale
Time lines
Identifying changes from the past to future
Looking at how we have changed as we have grown up
PE
Year One's PE days are on a Monday (with Miss Goulter) and on a Tuesday (with Mrs Hadfield). Please bring in your PE kit on a Monday.
Library
Our library session is on a Thursday afternoon. Please ensure your child's library book remains in their book bag. We want our children to develop a love of reading for pleasure!
Reading
During the week your child will have a pre-read session and a guided read session. We focus on texts that vary from the ones your child brings home.
Please ensure your child's reading book and record are in school every day. This enables us with more opportunities to read throughout the week with your child. We would appreciate if you would read a few times a week with your child at home and leave a comment in their reading record. Children can achieve dojo points for having their reading book and record in school every day. They can also achieve dojos for reading 3 or more times at home. Books should be left in the tray in the morning near the door.
The Phonics Screening Check takes place in June 2019. Throughout the year we will be helping children to develop their phonic knowledge in preparation for this.
Thank you for your continued support.
Miss French, Miss Austin and Mrs Hadfield
At the heart of it all is the child.